1.

Overview

WooCommerce Variation Master plugin provides a much nicer way to display variations of variable products. WooCommerce Variation Masters is very easy to use admin can simply Export/Import the variation gallery images and color/image/text swatches for each variation, along with the easy global setting features admin has full control to modify the setting for each variation, admin can disable the color/image/text swatches for particular variation, can hide/show the attribute name, can change the color/images/text for a particular variable product.

Features of WooCommerce Variation Masters Plugin:
Admin can add multiple gallery images for each variation, color, and image swatches for attributes, color, and image swatches for each variation custom attributes.
Admin can use both "select" and "color and image swatch" combination.
Easy export/import for variation gallery images, and attributes color and image swatches.
Variation wise color and image swatches customization.
Allow buyers to update variation on the cart.
Module wise control of each feature from a single page.
Product Gallery Slider in the variable product.
Easy to change the variation image size.
Gallery image slider on variable products.
Variation Swatches in Variable Product Update Cart Popup.
Product Gallery Slider in Variable Product Update Cart Popup.
Product Gallery with two Layout.
On Attribute swatch for display type will text along with image&color.
Hide Add To Cart button and Product Quantity from the shop page.
Add custom size to display the attributes term thumbnail on the shop page.
Show/Hide variation button on related products.
Hide Add to Cart and Quantity field from shop page/related products.
The variation will be Crossed, when not available.
Settings to show only one attribute on the shop page.
Change the variation image on the mouse-hover event of attributes.
2.

Installation

1. Automatic Installation:
Automatic installation is the easiest option as WordPress handles the file transfers itself and you don't need to leave your web browser.
Steps are as follows: To do an automatic install log into your WordPress dashboard, navigate to the Plugins menu, and click Add New.
 Click on the "Upload Plugin" button.
Click on the "Browse" button and navigate to the downloaded "WooCommerce Variation Masters" zip file and click ok.
Most importantly, of course, you can install it by simply clicking "Install Now".
2. Manual Installation:
The manual installation of Extension is another option to install the extension to your WordPress-environment. The manual installation method involves downloading our WordPress Extension and uploading it to your webserver via your favorite FTP application.
Steps are as follows:

Extract the downloaded "WooCommerce Variation Masters" zip file.
Upload the WooCommerce Variation Masters folder to the /wp-content/Plugins/ directory.
Activate the "WooCommerce Variation Masters" through the 'Plugins' menu in WordPress.
3.

Variation Swatches

This plugin replacing default variation selection of product with attribute term swatches. Here you've two options to display the variation swatches:
Manually:  You can assign the attribute term text/image/color from the attribute edit page under product > Attributes > edit attribute and select the text/image/color you want to show instead of the default options in the dropdown.
Using Import / Export: You can import the text/color/images for all/selected attribute terms using our export/import feature, for this you need to open the Variation Master > Import/Export tab and press the "export attribute" button you will get a CSV file with all of your attribute terms, after editing the CSV file just browse the file location and import it via pressing the "Import Attribute" button.
After that please go to the Variation Master Setting > "Enable Swatches" setting and  "Use Attribute Terms Thumbnails".
3.1.

Global Setting

First, create Global Attributes. Navigate to sidebar click on Products > Attribute, here you can create a new attribute and edit/delete previously created attributes.

To create a new attribute fill out the required fields like Name, Slug, etc, and the last click on the 'Add Attribute' tab.

After successfully creating an Attribute, Add Attributes terms by clicking on a particular Attribute Name.

To configure the terms you have to enter the Term Name, Term Slug, Description, and select the Display type. This plugin provides three types of display type, Image, Text, or Color.

And the last click on 'Add New Term', your Attribute Term is successfully created.

Now,  You can add multiple 'Attributes' and 'Attributes Terms' according to your requirements.

After successfully creating attributes, you have to enable the plugin setting. Go to the dashboard click on 'Variation Master' Settings here enable 'Enable Swatches' and 'Use Attributes Terms Thumbnails' settings.

After enabling those two Settings you can view the swatches variation of the product.
3.2.

Per Product Setting

To enable the variation swatches product-wise, go to the product edit page on which you want to set the per product set. To enable the product-wise setting first you need to add attributes and their values by clicking on the 'Attribute' tab.

And then click on the "Variation Swatches" tab after "Advanced" tab, from here admin can –
Disable the swatches for this variable product.
Change the label name for each attribute.
Select the display types to show attribute terms.

Text/color/Image
Default Global Select

Select the display size of attribute swatches.

Pre Defined Size
Default Global Size
Custom Size

Hide the term display name.
Using attribute term (global) for each term.
Now click on the Display Type Image/Color/Text, select Display Name 'Yes' from the dropdown list and select the Display Size of attributes.
Now click on attribute terms, Here set the Display Type and related display settings of attributes.
⇒If select Attribute Display Type 'Text' then enters text to show variation in attributes.
⇒If select Attribute Display Type 'Color' then chooses a color to show variation in attributes.
⇒If select Attribute Display Type 'Image' then Select/Upload to show variation in attributes.
Enable the Swatches and last click on the 'Save Changes' button.
Now you can see the per product variation swatches of the product.
3.3.

Import Attribute CSV file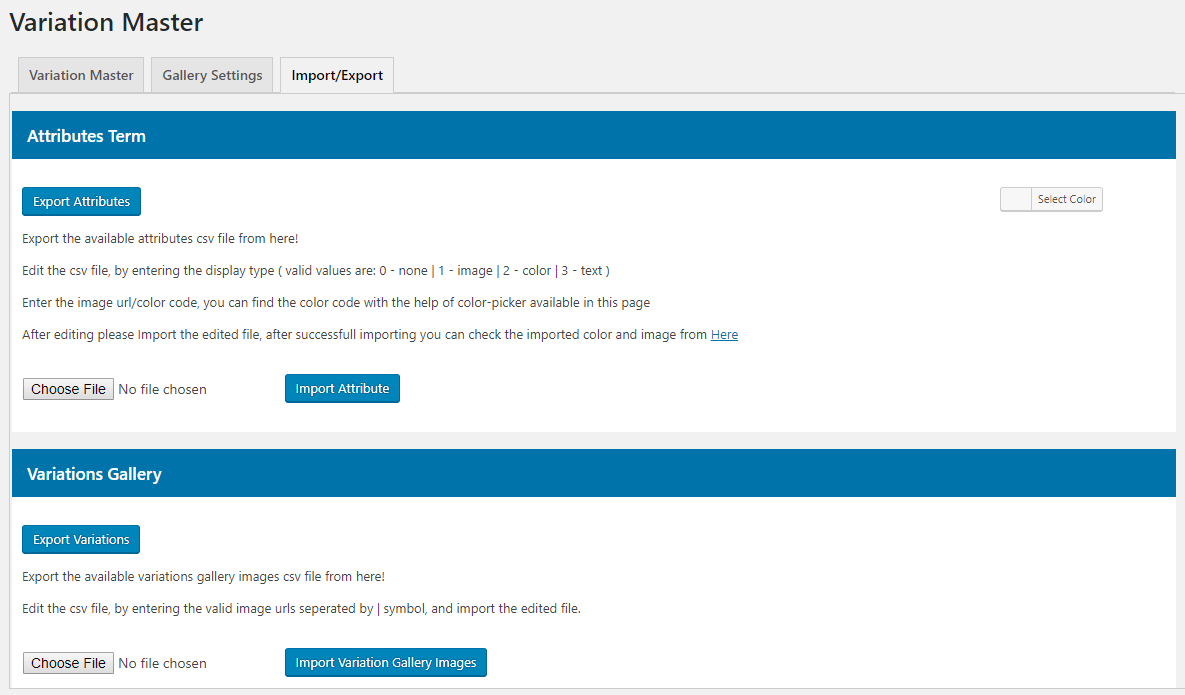 From here admin can download the .csv file for all existed attributes, terms and after editing the .csv file by providing the display type (0 if you don't want to use the term, for now, 1 for images, 2 for color swatches and 3 for text), image URL and color code all you need to browse the edited file and press the import button.
Demo CSV file:

After importing.CSV file, you can check the changes applied to the attribute edit page of each term under the products tab of WooCommerce.